Books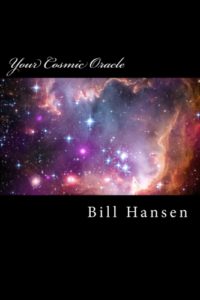 YOUR COSMIC ORACLE
by Bill Hansen
Your Cosmic Oracle details the history and development
of transiting cycles. Transits are a method
of planetary forecasting used by astrologers
to predict potential events.
Bill Hansen's unique use of transits to forecast human
conditions-past, present, and future- is
simple to use and highly accurate.
Daily Cycles, weekly cycles, monthly cycles,
and the long range one and nine year cycles
are fully explained.
This comprehensive guide and text-book
provides complete rules for understanding
the theory and practice of transits.
You learn the story, the technique, and
the benefits of this amazing forecasting
tool. The book also acts as a reference
to the nature and influence of each planet
cycle. It is a unique oracle-style reference
for answering questions, seeking guidance
and insight for all your life experiences.
Here is the book that will explain all that
you need to know about using transits to
plan and understand your life.
This book is a definitive reference for transiting
planetary cycles. Learn how to interpret
transits like a pro. Complete meanings
given for each of the planet cycles in
your life.
---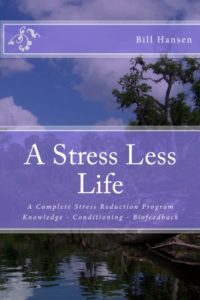 A Stress Less Life
by Bill Hansen 
Stress is a hidden killer. It triggers, aggitates, and creates a host of symptoms and illnesses. Learn what you need to know about the causes, the biological effects, the health consequences – and what you can do to CONTROL STRESS BEFORE IT CONTROLS YOU.
The proven stress management strategies and tips that are provided in this insightful book help you to reduce tension and stress
build-up.  Avoid the anxiety, fear and worry, depression, insomnia, fatigue, and illnesses associated with prolonged stress.
Learn and live A STRESS LESS LIFE through this informative book.

You get immediate stress reduction in five pages with the Quick Stress Guide.

You can evaluate and grade your level of stress through a stress assessment questionairre and a vulnerability scale.

Typical stress reactions are also listed along with all of the symptoms of stress so that you know exactly where you stand.
Hansen's "Relax Anytime" hypnosis conditioning CD is also available that enables you to give yourself 'doses of relaxation' upon command. You can purchase this special CD with dual hemisphere learning, subliminal messages, and Hansen's voice-effective-relaxation method separately.
Get A STRESS-LESS LIFE today and reduce, control, and eliminate stress buildup right away.
---
EARTH CHANGES: Our Solar Lives
by Bill Hansen